Fringe-eyed Flathead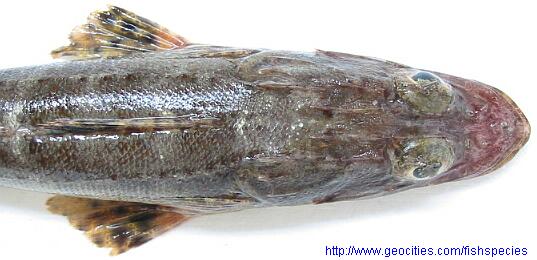 FAO name:
Local common name:
Scientific name:
Family:
Total Length:
Width[excl fins]:
Weight:
Water:
Depth range:
Importance:
Local waters:

Habitat:
Identifications:



Fringe-eyed Flathead

Cymbacephalus nematophthalmus
Platycephalidae [Flatheads]
26.8 cm [max to 58 cm]
2.8 cm
135 gm [max to 655 gm]
Marine
Mostly less than 5 m
Subsistence Fisheries
Yes, this fish was caught during my offshore trip, off Southern Islands on 15/5/03.
Mangroves, weed beds & sandy bottoms. Shallow rocky shores.
Dermal papillae[usually 6-9 small skin tentacles in adults] on the upper surface of eye, partially covering it. Bony ridges on head with spines. Brownish with indistinct dusky bars. Fins with darker, irregular shaped spots.

Click me to go to the Main Page